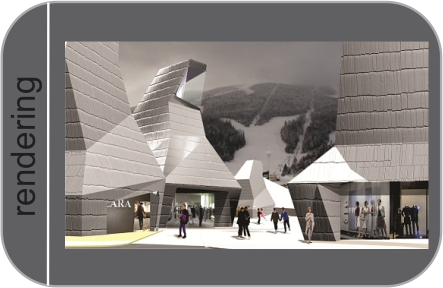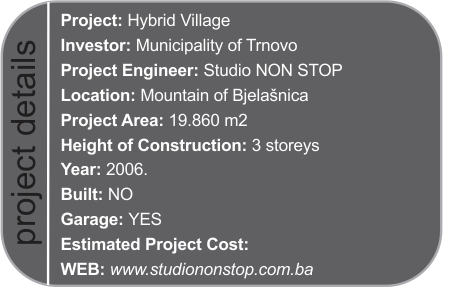 PROJECT DESCRIPTION:
Using the existing topography of the location, we formed the so-called, RURban matrix with a high concentration of urban facilities placed underground into the terrain, shaping a new mountain plateau, a new territory, on which we formed the composition of similar smaller volumes of the hybrid mountain village.
Central facilities of the ski center Babin do on the mountain of Bjelasnica are located at junction of three development directions of the tourist capacities in this area with the aim of forming a future center of this tourist complex, with appropriate commercial, catering and sports facilities, fitness and swimming pool.
One of the most significant aspects of this solution is an adequate connection of the rural natural environment with a high concentration of urban functions.
Hybrid form of buildings on the plateau is defined through the personification of the form of mountains on one hand, and the evolution of forms of traditional Bosnian mountain house on the other.
In this way, a hyper-modern composition of dynamic buildings covered by the traditional covering of shingles is formed.
With its total permeability, RURban matrix allows and directs pedestrian flows drawing them into the area of contrast and dynamic sequences of the mountain FU-touristic village for the 21st century.
---

OPIS PROJEKTA:
Korištenjem denivelacije lokacije formirana je tzv, RURbana matrica koja visoku koncetraciju urbanih sadržaja velikog volumena rješava kroz suterensku etažu formirajući novi planinski plato na kojem nastaje kompozicija manjih istorodnih volumena hibridnog planinskog sela.
Centralni sadržaji planinskog ski centra Babin do na Bjelašnici locirani su na čvorištu tri razvojna pravca izgradnje turističkih kapaciteta na ovom prostoru sa ciljem formiranja budućeg centra ovog turističkog kompleksa sa odgovarajućim trgovačkim, ugostiteljskim i sportskim sadržajima, fitnes centrom i bazenom.
Jedan od značajnijih aspekata ovog rješenja je adekvatno spajanje ruralnog prirodnog okruženja sa visokom koncetracijom urbanih funkcija.
Hibridna forma objekata na platou je definirana kroz personifikaciju formi planinskih masiva sa jedne strane, i kroz evoluciju forme tradicionalne planinske bosanske kuće sa druge strane.
Tako je formirana hibridna kompozicija dinamiziranih objekata pokrivenih tradicionalnim pokrovom od šindre.
Svojom potpunom permeabilnošću RURbana matrica propušta i usmjerava pješačke tokove uvlačeči ih u prostor kontrasta i dinamičnih sekvenci planinskog FU-turističkog sela za 21. stoljeće.
PROJECT VISUALISATIONS