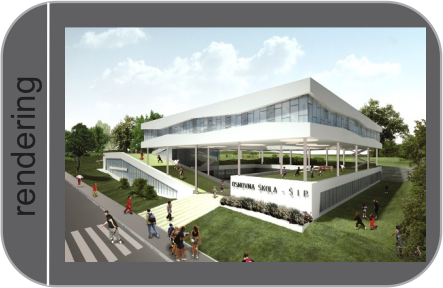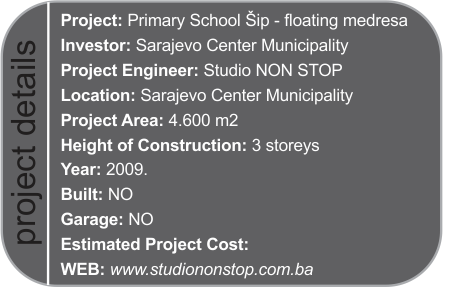 PROJECT DESCRIPTION:
The existing site terrain has been used to position the bigger part of the building under the earth making a new topography with a smaller floating part of the building in a quadratic shape above the new topography which forms a 3D public space.
Knowledge is the most important product of the 21st century. Participation in its creation and transfer through a process of education is one of the greatest privileges. Creating space for the successful performance of these processes is a major challenge. .
The school has a capacity of 540 students and is divided into little school (1-4.) and big school (5-8. grade). Primary School Šip is located within the new housing settlements on the terrain with a 10-20% slope.
In terms of the shaping of the building we used earth materials and a form that rises from the topography. Rectangular forms of the school yard and floating block of the high school contrasts to the dynamic forms of new-old topography.
In this manner a real range of functional processes that take place in the school is expressed: from the children's emotions symbolized by the dynamic forms of the facade, to the seriousness of the school institution symbolized by the clear form of the squares.
---

OPIS PROJEKTA:
Korištenjem nagiba postojećeg terena veći dio objekta podvučen je pod zemlju stvarajući novu topografiju iznad koje lebdi manji dio objekta u obliku kvadrata i formira trodimenzionalni javni prostor.
Znanje je najvažniji produkt 21. stoljeća. Učestvovati u njegovom stvaranju i prenošenju kroz proces obrazovanja jedna je od najvećih privilegija. Stvarati prostor za uspješno odvijanje ovih procesa veliki je izazov.
Škola ima kapacitet od 540 učenika i podijeljena je u tzv. malu školu (1.-4. razred) i veliku školu (5.-8. razred). Osnovna škola "Šip" locirana je u okviru novog stambenog naselja na padini nagiba 10-20%.
U oblikovnom smislu objekat koristi "zemljane" materijale i djelimično dinamizirane oblike koji nastaju iz njegovog izranjanja iz topografije. Kontrast dinamičnim formama čini kvadratno školsko dvorište i kvadratni lebdeći blok velike škole.
Na ovaj način iskazan je realni dijapazon funkcionalnih procesa koji se odvijaju u školi: od dječije emocije simbolizirane kroz dinamične oblike fasade, do ozbiljnosti institucije škole simbolizirane kroz čvrstu i jasnu formu kvadrata.