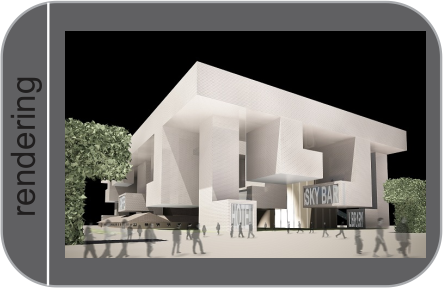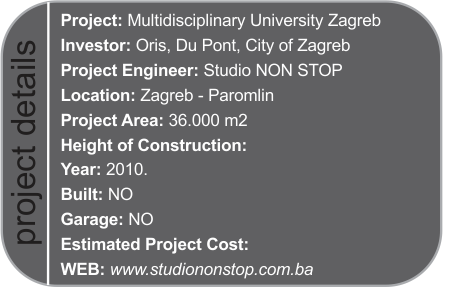 PROJECT DESCRIPTION:
Paromlin site is placed in the city center of Zagreb, very closed to the railway station to the north, and concert hall Vatroslav Lisinski to the south. The old Paromlin buildings from 19st century, protected as a cultural heritage, are located on the site.
The General concept is based on the con.TRUST between traditional architecture of cultural heritage and futuristic architecture of digital age. The Functional concept is the transformation of production of flour (Paromlin) to production of knowledge (MUZA–Multidisciplinary University Zagreb). The Urban concept is a definition of a new covered 3-D public space that is completely open to pedestrians.
The Spatial concept provides a horizontal building structure supported by six mega-columns with anti gravitation hanging units creating covered 3-D public space. New building typology is shaped as a futuristic hanging city structure that provides protection of the old buildings.
Program for Multidisciplinary University Zagreb for post-diploma studies is defined as a mixed use facilities for the production of knowledge. That includes public spaces on the ground floor such as shops, restaurants, cafes, urban services, conference rooms, halls, cinemas, meeting rooms, showrooms and an exhibition area. Hanging levels provide workshops, presentation areas, laboratories, lecture rooms, bars, cafes and a hotel restaurant. The two top levels contain offices and cabinets for professors, researchers, scientists and students, classrooms, workshops, meeting rooms, laboratories, studios, a library and a hotel with 150 beds.
The Hanging university campus provides futuristic spatial configuration that can provoke and inspire students, scientists and researchers. They can feel a kind of "plasma condition without G-force" as a way of total physical and mental liberalization in their work. In that way this spatial structure can contribute for inspiration and innovation. We could call it "Knowledge space".
---

OPIS PROJEKTA:
Lokalitet Paromlin se nalazi u samom centru Zagreba u neposrednoj blizini glavne željezničke stanice koja se nalazi na sjeveru i koncertne dvorane Vatroslav Lisinski koja je na jugu. Na lokaciji se nalaze objekti starog Paromlina iz 19. stoljeća koji su zaštićeni kao spomenici kulture.
Generalni koncept je baziran na kontrastu između tradicionalne arhitekture kulturno-istorijskog nasljeđa I futurističke arhitekture u digitalnom vremenu. Funkcionalni koncept predstavlja transformaciju proizvodnje brašna (kruha) u proizvodnju znanja (MUZA–Multidisciplinary University Zagreb). Urbanistički koncept definira novi trodimenzionalni natkriveni javni prostor koji je potpuno otvoren prema pješacima.
Prostorni koncept definira horizontalnu strukturu dimenzija 80mx140m koja je oslonjena na šest megastubova sa "protiv-gravitacijskim" zavješanim jedinicama formirajući natkriveni 3-D javni prostor. Tipologija novog objekta je oblikovana kao futuristička obješena gradska matrica koja pruža zaštitu starim objektima.
Program za Multidisciplinarni univerzitet Zagreb za postdiplomske studije je definiran kao sadržaj miješanih funkcija za proizvodnju znanja neophodnih za rastuću kompleksnost našeg globalnog društva. To uključuje javne funkcije u prizemlju kao što su prodavnice, restorani, kafei, urbani servisi, sale za konferencije i sastanke, kino dvorane, izložbeni i prezentacijski prostori. Obješeni nivoi definiraju prostore za radionice, prezentacije, laboratorije, predavanja, barove, kafiće i hotelski restoran. Dva najviša nivoa sadrže kancelarije i kabinete za profesore, naučnike, istraživače i studente, učionice, radionice, laboratorije, studije, sale za sastanke i prezentacije, biblioteku i hotel sa 150 kreveta.
Viseći univerzitetski kampus nudi futurističku prostornu konfiguraciju koja provocira i inspirira studente, naučnike i istraživače. Oni mogu osjećati vrstu "plazma stanja bez gravitacijske sile", kao način totalnog fizičkog i mentalnog oslobađanja u njihovom radu. Na taj način ova prostorna struktura može doprinijeti inspiraciji i inovaciji. To možemo nazvati "Prostor znanja".
PROJECT VISUALS