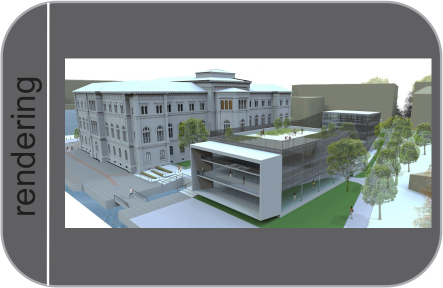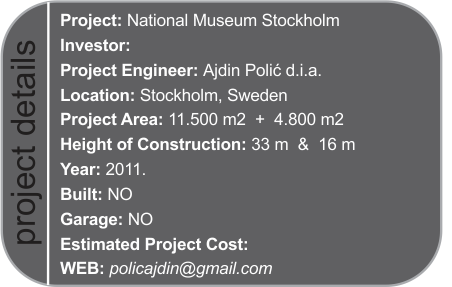 PROJECT DESCRIPTION:
The National Museum is the largest art and design museum with collections of older European art from the 1500s to 1900, as well as portraiture, craft and design right up to the present. The collections are among the finest in world. The building of the same name managed by the National Property Board. The museum building was built from scratch for its purpose and is one of the Swedish 1800s most important works by international originality. It is one of the German architect Friedrich August Stülers best preserved buildings seen in a European perspective.
National Museum inaugurated the 1866. Over the years the museum building is arranged if, rebuilt and modernized to accommodate new needs. Parts of the collections have moved out and formed new museums, while the collections of plants under with the mission. The building is now no longer an international standard of Climate, fire protection, security, facilities and logistics, and must be promptly undergo a complete renovation.
National Museum with Prince Eugen's Waldemarsudde is a government agency with mission to promote the arts, the interest in art and art history. National Museum in particular, brings to life the older art forms and their relation to the contemporary art and society and to promote artistic and cultural renewal. The Authority manages collections consisting of over 700 000 objects which makes the National Museum to Scandinavia, and in many aspects, Northern Europe, leading art and design museum. The collections contain older European art from the 1500s to 1900, and portrait art, craft and design from the 1500s to the present. The collections of the National Museum's owned by all and accessible to all. Operation seeks to introduce, nurture, preserve and build knowledge about our common international heritage.
With its expanding needs the museum has to undergo certain renovation and addition in order to facilitate new art works, expand space for its users and workers at the same time. A large number of artifacts need to find space to be exhibited, better usage of existing space need to be formed, the back courtyard needs to find a better function and be connected to the rest of the building, new modern functions also need to be presented in order to make the National Museum a modern structure which will cover all modern needs of a building of such importance. A better solution of the entrance and the overall circulation of users needs to be solved in the interior and the exterior. With this project I have presented my overall idea of how to solve such and other problems to make this unique building function better.
---

OPIS PROJEKTA:
Nacionalni Muzej je najveći umjetnički i dizajn muzej sa kolekcijom stare Evropske umjetnosti iz 1500-ih do 1900-ih, kao i portretima, obrt i dizajn sve do sadašnjosti. Kolekcije su među majboljim u svijetu. Objekat pod istim imenom pod upravom je Nacionalnog Odbora Nekretnina. Objekat muzeja je sagrađen od nule za svoju svrhu i jedan je od Švedskih iz 1800-ih najvažnijih radova internacionalnog porijekla. Jedan je od najbolje očuvanih objekata od njemačkog arhitekte Friedrich August Stuler-a viđenih u evropskoj perspektivi.
Naconalni Muzej je inauguriran u 1866. godini. Kroz godine je objekat muzeja aranžiran, renoviran i moderniziran kako bi se prilagodio novim potrebama. Dio kolekcija je premješten i formirani su novi muzeji. Sada objekat više ne pokriva internacionalne standard klime, požarne zaštite, sigurnosti, postrojenja i logistike, i trebao bi brzo stupiti pod kompletnu obnovu.
Nacionalni Muzej sa Princom Eugenom Waldemarsudde-om je vladina agencija sa misijom da se promoviše umjetnost, interes u umjetnost i historija umjetnosti. Nacionalni Muzej posebno, vraća u život stare umjetničke forme i njihovu relaciju u odnosu na sadašnju umjetnost i društvo i promoviše umjetničku i kulturološku obnovu. Vlasti upravljaju kolekcijom od preko 700 000 artifekata koji čine Nacionalni Muzej u Skandinaviji, i prema mnogim aspektima, sjevernoj Evropi, vodećim umjetničkim i dizajn muzejom. Kolekcije Nacionalnog Muzeja su u vlasništvu svoju i dostupne su svima. Operacija nastoji uvesti, njegovati, čuvati i graditi znanje o našoj zajedničkoj međunarodnoj baštine.
Sa rastućim potrebama muzeju je neophodna određena obnova i dadatak kako bi se smjestili novi umjetnički radovi, prošire prostorije za njihove korisnike/posjetioce i radnike u isto vrijeme. Veliki broj artifekata treba dodatni prostor kako bi se izložile, treba da se formira bolja iskorištenost postojećih prostora, vrt iza objekta treba da pronađe bolju fukciju i da se poveže sa ostatkom objekta, nove modern funkcije se također trebaju predstaviti kako bi se Nacionalni Muzej predstavio kao moderna struktura koja će pokrivati moderne potrebe jednog ovakvog značajnog objekta. Bolje rješenje ulaza i sveukupno cirkulisanje korisnika treba da se riješi u interijeru i eksterijeru. Sa ovim projektom sam predstavio sveukupnu ideju kako bi se mogli riješiti ovi i drugi problemi da bi ovaj jedinstveni objekat bolje funkcionisao.
PROJECT VISUALISATIONS:
(sa-c.net)
---