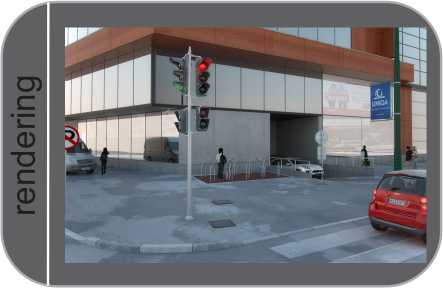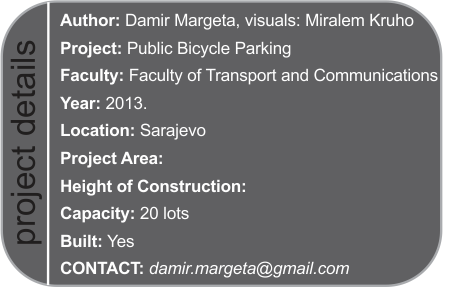 PROJECT DESCRIPTION:
Obvious increase in nubmer of urban cyclers in Sarajevo in last couple of years causes a need for plannning, design and implementing of adequate bicycle infrastructure in order to organise this mode of transportation and utillize from its benefits. Providing acceptable bicycle parking facilities in the city`s attractive locations is an essential element in an overall effort to encourage citizens of Sarajevo to commute by this mode of transport more often. It is vital to provide acceptable bicycle parking lots at origin and destination of each travel. Parking lots should be planned and designed to protect bicycles against theft and vandalism. Purpose of this project was to design and build the first short-term outdoor bicycle parking facility in Sarajevo similar to those in great european cities. Situated in very center of the city, BBI Shopping Center has proved to be logical choice due to the purpose of the building. Analysis of the nearby traffic flow, showed shopping center itself is top-priority center of attraction for travel destination. Parking lot is positioned on the little square at building`s south-eastern corner and is almost fully covered with shopping center`s video survelience cameras which improve safety and minimises risk of theft and vandalism. Parking lot itself is interesting for several reasons. It introduces standard Inverted-U bicycle racks as the technical solution for bicycle racks of Second (medium) safety level for the first time in Sarajevo. Moreover, being able to accomodate twenty bicycles, it is the first designated bicycle parking facility of substantial capacity. Finally, parking`s surface layer is made from red-colored asphalt which is the first apllication of this material in city`s central zone. Project was implemented in cooperation of NGO Giro di Sarajevo as the proposer, Center Municipality as the investor and BBI Real Estate Company who, as the landlord ceded neccessary land for parking`s construction.
---

OPIS PROJEKTA:
Broj gradskih biciklista u Sarajevu je u vidnom porastu u posljednjih nekoliko godina što uzrokuje potrebu za izgradnjom namjenske infrastrukture kako bi se organizovao ovaj vid saobraćaja i iskoristile njegove prednosti. Prisustvo odgovarajućih parkirališta za bicikle na atraktivnim lokacijama je ključni element u odvijanju i poticanju građana na masovnije korištenje ovog vida prijevoza. Parkirališta je potrebno obezbijediti na ishodištu i odredištu putovanja i trebaju biti projektovana na način da zaštite bicikle od krađe i vandalizma.
Svrha projekta "Parkiralište za bicikla kod BBI Centra" je isprojektovati i izgraditi prvo parkiralište za bicikle u Sarajevu namijnjeno kratkotrajnom parkiranju bicikla po uzoru na ista u velikim evropskim gradovima. Saobraćajnom analizom, lokacija BBI Shopping Centra se nametnula kao prirodan odabir zbog same namjene objekta koji, sa gledišta saobraćajne struke, predstavlja vrhunski centar atrakcije putovanja u centralnoj gradskoj zoni. Za mikrolokaciju je odabran pješački plato na jugoistočnoj strani objakta. Mikrolokacija pruža nekoliko prednosti koji doprinose sigurnosti od krađe: lokacija je vrlo prometna i gotovo u potpunosti nadzirana video nadzorom Tržnog centra.
Samo parkiralište je specifično iz sljedećih razloga. Kao tehničko rješenje stalka za bicikle je odabran "Obrnuto-U" stalak koji predstavlja tipično rješenje stalaka za bicikle Drugog (srednjeg) nivoa sigurnosti i kao takav je prvi put primjenjen u Sarajevu. Takođe, sa kapacitetom od dvadeset parking mjesta za bicikle, radi se o prvom namjenskom parkiralištu značajnijeg kapaciteta u centralnoj gradskoj zoni. Posebnost parkirališta je i prva primjena crvenog pigmentiranog asfalta u ovom dijelu Sarajeva.
Projekat je realiziran u saradnji Udruženja građana "Giro di Sarajevo" kao predlagača, Općine Centar kao investitora i kompanije BBI Real Estate koja je dodijelila zemljiše za izgradnju parkirališta.
PHOTO UPDATE - 27.09.2013.
PHOTO UPDATE - 20.09.2013.
PHOTO UPDATE - 16.09.2013.
PROJECT VISUALISATIONS