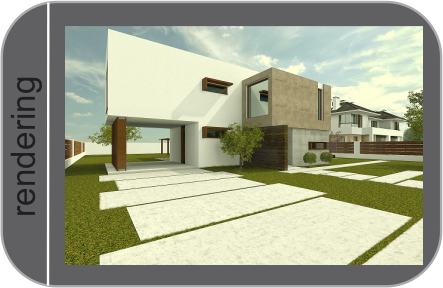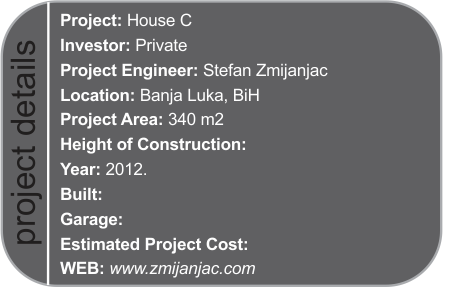 PROJECT DETAILS:
C house is a private residence designed for a four member family, located in a urban area in Nova Varoš, Banja Luka, Bosnia and Herzegovina. The house is built in a privileged spot, surrounded by villas.
On the ground floor we designed all these spaces where the family spend most of their time together, as well as with friends. The living room, the kitchen and a dining room. From this level one can easily approach tha garden with the barbeque and the pool.
The private spaces of the house, such as the master bedroom and the two children bedrooms are on the first floor. On the basement there are some auxiliary spaces, storages, laundry,gym and small wine cellar.
Our intention was to design a house that exploits all views without having traditional references in its form. There are two blocks that compose the building , like a "lego game". As for the colors, the owners wanted only the use of white and grey, so the rest would be given from the materials, like exposed concrete, wood, aluminium and glass. Result of design is a customized house for the specific family, but also a house which makes proud the architect who designed it.
---

OPIS PROJEKTA:
Uskoro...
PROJECT VISUALISATIONS