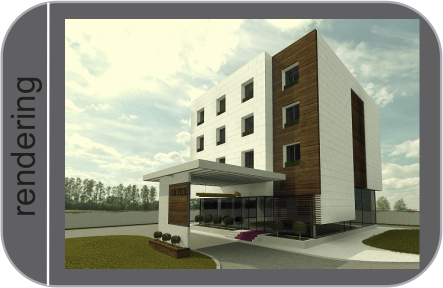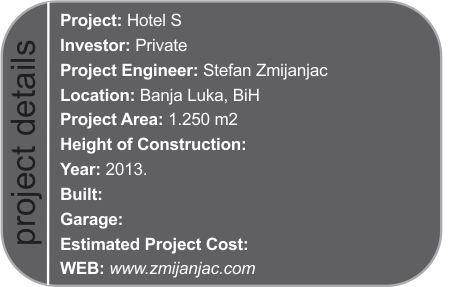 PROJECT DESCRIPTION:
Hotel S is a small private hotel designed for a private investor, located in a urban area of Banja Luka, Bosnia and Herzegovina. The concept of the hotel was born from the owner's desire for a impressing the luxurious, but more familiar character to the city.
Its architecture, of remarkably modern language, does not clash with or overshadow its neighboring buildings. Just the contrary: it follows their scale, the rhythm of their façades (set by the modulation of the openings) and even the moderate hues of their color palette. Hotel is designed in sophisticated and an elegant taste with a modern atmosphere.
On the ground floor we designed recepcion, lobby and a small restaurant, in basement is gym, spa and sauna. The rooms are split into 3 categories – double rooms, 3-bed rooms and suites totaling 19 units.
As for the colors, the owner wanted only to use colors from the materials, like exposed concrete, wood, aluminium, stone and glass.
---

OPIS PROJEKTA:
Uskoro...
PROJECT VISUALISATIONS: