Izložba fotografija ''15 godina: 1996-2011'' - Jim Marshall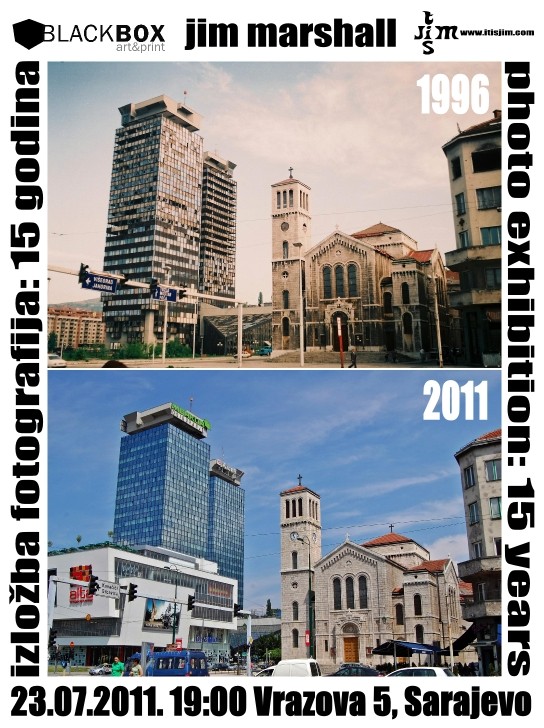 15 godina
U proljeće 1996. fotografisao sam Sarajevo sa ne tako dobrim Nikon 35 mm aparatom. Petnaest godina kasnije, također u proljeće, ali 2011. napravio sam iste fotografije na identičnim lokacijama; isto tako ne baš dobrim Nikon DSLR aparatom.
Fotografije iz 1996. su uslikane samo nekoliko sedmica nakon reintegracije Grbavice, kada su se još uvijek u gradu mogle jasno vidjeti, osjetiti i namirisati posljedice opsade. No, ipak je postojao osjećaj nade, osjećaj slobode. Ljudi su planirali odlazak na more po prvi put poslije pet godina. Odlučni da stignu tamo pa makar i pješice. Djeca su se igrala na Vilsonovom, a roditelji su vodili računa o tome da ostanu na pravoj strani trake upozorenja o minama, razvučene duž rijeke. Bašte kafića su bile prepune, raskrsnice otvoreni prostori, a sve barikade su nestale. Nije više bilo potrebe za trčanjem, niti je bilo potrebe za skrivanjem.
Fotografije iz 2011. pokazuju transformaciju grada. Ostalo je samo nekoliko znakova opsade, samo "ruže" i možda pokoja riječ "sklonište" išarana na zidovima. Inače, bombardovane zgrade i razbijeni prozori su danas obnovljeni i ponovo rođeni kao stanovi, kancelarije i bolnički odjeli. Djeca koja se igraju na Vilsonovom poznaju ove zgrade i ulice samo ovakve kakve su danas, a većina njihovih roditelja, uključujući i mene fotografa, često kažu: "Ništa se ne mijenja; nema poboljšanja, sve je isto!"
Kombinovane fotografije pokazuju velike promjene i poboljšanje u zadnjih 15 godina. One ilustriraju čudo ljudskog duha. Pokazuju da budućnost Sarajeva nije predodređena, ali može biti oblikovana i poboljšana.

__________________________​__________________________​_
15 years
In the spring of 1996 I took photographs around Sarajevo with a not very good Nikon 35mm film camera.
In the spring of 2011 I took the same shots from the exact same locations with a not very good Nikon DSLR camera.
The photographs from 1996 were taken just weeks after the handover of Grbavica, when you could still clearly see and feel and smell the effects of the siege on the city. And yet there was a sense of hope, a sense of freedom. People were planning to visit the coast for the first time in five years, determined to get there even if they had to walk. Children played on Vilsonovo, their parents making sure they stayed on the right side of the mine warning tape stretched all along the river bank. Outdoor cafes were overflowing, junctions were open spaces, all the barricades were gone. There was no more need to run, no more need to hide.
The photographs from 2011 are of a city transformed. There are few remaining signs of the siege, just the pockmarks and perhaps the word 'sklonište' scrawled on walls. Otherwise, bombed out buildings and blown out windows are now reconstructed and reborn as apartments, offices and hospital wards. The children who play on Vilsonovo know these buildings and streets only as they are now. But many of their parents, including the photographer himself, often say: "nothing changes, nothing improves, everything is the same".
The combined photos show that enormous changes and improvements have occurred over the last 15 years. They illustrate the wonder of the human spirit. They indicate that Sarajevo's future is not preordained but can be shaped and always improved.
Jim Marshall