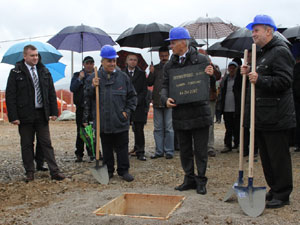 Bosanski Petrovac: U Poslovnoj zoni Gorinčani u Bosanskom Petrovcu postavljen je kamen temeljac za prvu od tri fabrike koje će se graditi u ovoj godini. Riječ je o fabrici peleta firme Interwork iz Cazina u koju će biti uloženo oko tri miliona KM, a gradit će se u dvije faze.
U prvoj fazi će biti instaliran proizvodni pogon za proizvodnju peleta kapaciteta 2 tone na sat koji će zapošljavati 20 radnika, a u drugoj fazi će se graditi staklenici za proizvodnju zeljastog bilja, koji će koristiti viškove toplotne energije nastale proizvodnjom peleta i zapošljavat će dodatnih 20 radnika.
"Interwork je joint venture kompanija italijanskih i bh privrednika po sistemu green field investicije. Predviđeno je da završetak radova na fabrici peleta bude do kraja jeseni čime bi i počela proizvodnja do kraja godine", izjavio je direktor preduzeća Interwork Sanel Liđan.
Općinski načelnik Ermin Hajder i počasni konzul BiH u Italiji dr. Diego Moscheni svečanim presjecanjem vrpce i postavljanjem kamena temeljca od strane zlatnih investitora Giorgio Eberle i Michelangelo Chiecchi ozvaničen je početak radova na izgradnji tvornice peleta u Poslovnoj zoni Gorinčani.
"Danas je ustvari počela završnica priče o Poslovnoj zoni u Bosanskom Petrovcu, gdje će se graditi tri fabrike. Ovo je rezultat jednog trogodišnjeg rada, koji je kulminirao time da smo privukli investitore, znači znali smo to uraditi, jačali ekonomski i egzistencijalno Bosanski Petrovac, a to je suština priče lokalnog lidera da zaista brine o svojim građanima. Najbolji način je da im obezbjedi radna mjesta i mislim da je Bosanski Petrovac na jedan primjeren način upravo to i uradio", izjavio je načelnik općine Bosanski Petrovac Ermin Hajder.
(eKapija/sa-c.net)