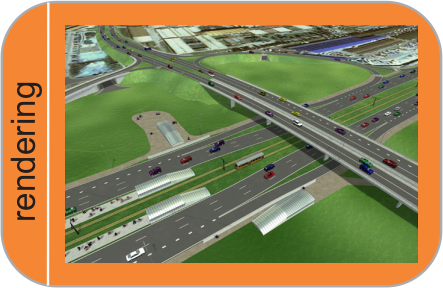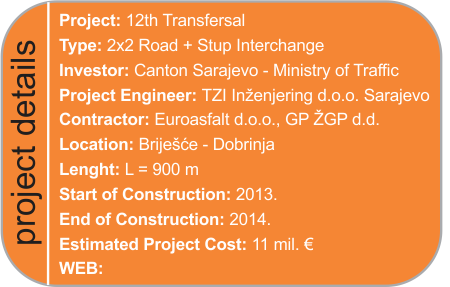 PROJECT DESCRIPTION:
The route of XII Transfersal begins directly in front of the bridge over the Miljacka river, and represents a continuation of LOT 2b of Sarajevo Bypass. The project of Stup interchange, as part of XII Transversal and currently the busiest and most frequently used road junction in the area of Sarajevo Canton and beyond, consists of: reconstruction of existing ramps B and D and new project of ramps A and C; therefore the Stup interchange takes a new shape ('clover') with all required dynamic, traffic related and aesthetical elements.
---

OPIS PROJEKTA:
Trasa XII transferzale
počinje neposredno ispred mosta na rijeci Miljacki, i nastavak je Lota 2b Sarajevske
obilaznice. Projekat Stupske petlje, kao sastavnog dijela XII transverzale i trenutno najopterećenijeg i
najfrekventnijeg čvorišta na području Kantona Sarajeva i šire, sastoji se iz: rekonstrukcije postojećih rampi
B i D, te novog projekta rampi A i C, čime se dobio konačni izgled petlje Stup ("djetelina"), sa svim potrebnim
vozno-dinamičkim, saobraćajnim i estetskim elementima.
Kako bi se ostvarila veza sa budućim autobuskim terminalom kroz rampu A projektovan je potputnjak širine 9,80m. Projektovanim potputnjakom širine 8,00m na rampi C omogućen je pristup groblju kao i individualnim objektima unutar petlje.
Zbog velike frekvencije pješačkog saobraćaja, u sklopu petlje na Gradskoj longitudinali je projektovan pothodnik sa izlazima na tramvajsko stajalište i sa vezama desne i lijeve strane Gradske longitudinale. Pothodnik je opremljen elevatorima tako da omogućava nesmetano kretanje osobama sa invaliditetom.
Novi natputnjak preko Gradske longitudinale lociran je sa istočne strane postojećeg natputnjaka. Rekonstrukcija postojeće Gradske longitudinale na dužini od cca 620m, kao posljedica novoprojektovanog rješenja Stupske petlje, sastoji se u dodavanju isključnih i uključnih traka za potrebe povezivanja Gradske longitudinale sa XII transferzalom.
PHOTO UPDATE - 04.02.2014.
PHOTO UPDATE - 08.01.2014.
PHOTO UPDATE - 21.10.2013.