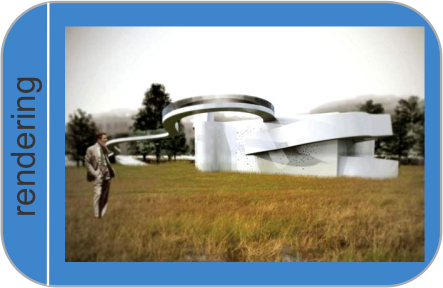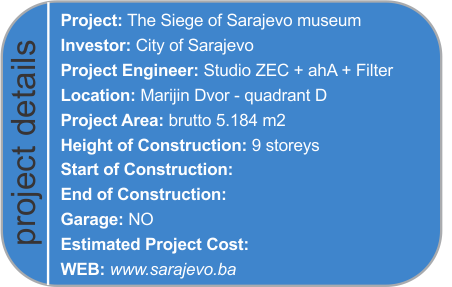 PROJECT DESCRIPTION:
The Siege of Sarajevo Museum – The Art of Living 1992-1996 project is launching a new way of interacting and learning about the phenomenon of the Siege of Sarajevo by focusing on the Mechanism of Survival vs. Mechanism of Terror.
The Museum will be a unique depository of human knowledge – where human ingenuity, creativity and intelligence were captured amidst the urban post-cataclysmic realm. It is a heritage snap-shot of faces and voices that have shaped the longest siege in the modern history of mankind.
The objective is to bring the story of the Siege in juxtaposition with contemporary events, obstacles, fears and aspirations by mapping-out the facts, evidences, causes and consequences as educational reflections for 21st century.
As uncertainties of 21st century risk society spread, we are confronted with difficult questions and choices, and very few answers and options. When looking from this perspective, the experience of Sarajevo Siege highlights capacity of human mind, body and soul to respond and to survive a major urban cataclysmic event and defy terror. Suddenly, terms like art of living, recycling, adaptation to change, freedom from fear are high on the global agenda. Given that Sarajevans tried and tested them some 20 years ago, the Museum's unique collection offers a bridge between fear and hope, showing many tales about how opportunities can arise from uncertainty.
---

OPIS PROJEKTA:
Muzej opsade Sarajeva – Umijeće življenja 1992.-1996. je projekat koji nudi nove načine međudjelovanja i učenja kroz fenomen Opsade Sarajeva fokusiranjem na Mehanizam preživljavanja nasuprot Mehanizmu terora.
Muzej će biti jedinstvena riznica ljuskog znanja – domišljatosti, kreativnosti i inteligencije iskazanih usred urbane postkataklizme: baština ovjekovječenih lica i glasova koji su oblikovali najdužu opsadu u modernoj istoriji čovječanstva.
Cilj Muzeja je da mapiranjem činjenica, dokaza, uzroka i posljedica, priču o opsadi prikaže u svjetlu savremenih događaja, prepreka, strahova i aspiracija, i tako ponudi obrazovni materijal za suočavanje s izazovima 21. vijeka.
Dok se neizvjesnosti društva rizika 21. vijeka sve više umnožavaju, pred nas se postavlja mnoštvo teških pitanja i izbora, a tek poneki odgovor ili rješenje. U tom smislu je iskustvo Opsade Sarajeva bitno zato što pokazuje sposobnost ljudskog uma, tijela i duše da reaguju i prežive ozbiljnu urbanu kataklizmu i prkose teroru. U cijelom svijetu najednom postaju aktuelni termini umijeće življenja, reciklaža, prilagođavanje promjenama, sloboda od straha. S obzirom da su ih građani Sarajeva sve iskusili i testirali prije nekih 20 godina, jedinstvena kolekcija Muzeja čovječanstvu nudi most između straha i nade, pokazujući mnoštvo priča o mogućnostima koje se rađaju iz nesigurnosti.
(fama collection)
PROJECT VISUALISATIONS